FruitMasters' partnership bears fruit
Significant increase in pear volume has resulted in Dutch-based FruitMasters investing in yet another GREEFA grading and packing solution. Choosing the newly developed, 6-laned CombiSort, uniquely dedicated to grading pears, makes them the first in the Netherlands. The high capacity is achieved through minimizing internal transport (by utilizing an underwater filler, i.a.) and maximizing quality control (using iFA) – resulting in a production increase totaling an impressive 40 million kilograms.
After implementation of GREEFA's apple-grading bestseller GeoSort, three years ago, FruitMasters were keen to achieve similar results for their pear production. Hence their choice for the all-new hybrid grading and packing line, dedicated to supreme pear-processing efficiency. A choice that turned out to be another success, and underlined their long-term fruitful cooperation.The system's increased productivity is achieved through clever use of an underwater filler and thoughtfully designed peripherals. Additionally, the machine, which was taken into operation recently, lets the user choose between either immediate packing of pears, pre-sorting and crating them first, or do both simultaneously. When choosing the pre-sorting and crating option, the pears are stored before being packed concerning clients requests – effectively giving the user flexibility to meet a wider variety of client requirements. This concept of grading and packing in one single location increases efficiency significantly – as Fruitmasters' production boost to 40 million kilograms clearly shows.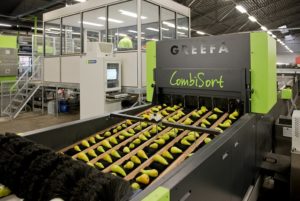 Home turf advantage
Being a home-grown company has its advantages. With Holland historically being a pear-producing country, GREEFA knows the requirements of pear-growers like no other – resulting in super-efficient product handling without loss of speed or accuracy. A prime example being their in-house developed digital measuring systems for both external (iQS) as well as internal fruit quality (iFA) – of which the latter is especially geared towards pear processing. High-resolution cameras, controlled by powerful software capable of high-speed processing, accurately recognize fruit properties (like brix value) and flawlessly single out defects. These are then projected on a three-dimensional geomodel, and easily viewed on the user-friendly display. With this investment FruitMasters clearly support their claim of offering clients the highest quality possible.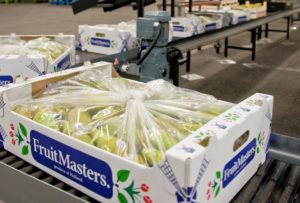 About GREEFA
While innovating, developing and building high-value fruit sorting and packing solutions since 1940, GREEFA has grown from a modest family business to a world market leader. Its relevant installations, peripherals, measuring systems and software are all developed in-house — to protect and warrant the quality they represent.