Kanzi®
FruitMasters has marketed apples for a hundred years. We are constantly seeking innovative apple varieties that respond to the changing needs of the consumer. The Kanzi® apple is one of the innovative apple varieties marketed by FruitMasters. Kanzi® is the ultimate thirst quencher among apples. It has a full taste and is very refreshing.
The name Kanzi®
Kanzi® literally means 'hidden treasure'. The secret of the Kanzi® apple is in its Gala and Braeburn parentage. The Kanzi® apple has received the best characteristics from both parents. Kanzi® can be recognised by its typical red blush and optimum sweet and sour balance. The yellowish-white flesh of Kanzi® is very juicy and crisp.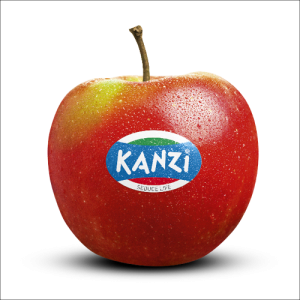 Kanzi® apple on your shelf
Kanzi® is not just an apple, it is a quality apple. The luxurious presentation is a tantalising prelude to the crunchy bite and deliciously balanced sweet and sour taste. 'Seduce life' is the central theme of the marketing and promotion material. Our aim is to enrich life with a unique and satisfying taste experience and to add a touch of luxury to even the smallest of moments. No one wants to leave the shop without a Kanzi® apple. Where will you position the Kanzi® apple on your shelves?




Kanzi® and the consumer
Life goes on. Every day, every moment offers an opportunity to make a choice and to wake up to wonderful days and a healthier life. Kanzi® believes that you should enjoy life and get the most out of it. That's why Kanzi® seizes the day with passion and gets the most out of life. The Kanzi® apple has the look and taste of a winner. Those are also the conclusions of consumer panels. When displayed in the shop, the powerful, red image of the Kanzi® fruit label will tempt the consumer to make a purchase.
Would you like to know more about the Kanzi® apple? Visit www.Kanziapple.com or send an email to info@fruitmasters.com