Migo®
The Migo® pear is an innovative pear and available exclusively at FruitMasters. The Migo® pear responds to the changing needs of the consumer. For example, the Migo® pear is juicy without being messy. The Migo® is a pear for on the go. Migo® is the ultimate thirst-quenching snack among pears.
The name Migo®
The Migo® pear is a cross between the Conference and the Doyenné d'hiver pear. The name Migo® is a combination of 'mi' on the 'go'. A pear to go is what the consumer needs. Migo® is recognisable from its bright green colour and firm bite. Its long shelf life and constant quality mean you can take the Migo® pear with you anywhere.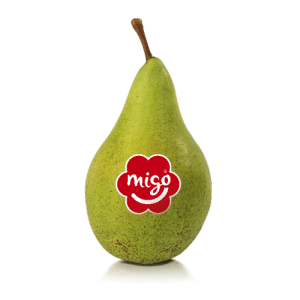 Migo® pear on your shelf
 Migo is recognisable by its warm red colour, cheerful designs and characteristic smile. A smile, always and anywhere. When you choose a Migo® pear, you choose cheer with a smile. The concept of Migo® makes consumers happy, anywhere. No one leaves the shop without a smile when they have a Migo® pear in their hand. Where will you position the Migo® pear on your shelves?



Migo® and the consumer
We have performed research over many years. We asked real pear lovers what they wanted. We even listened to pear haters. Why don't they eat pears? Their reaction was clear: 'We would be happy to eat pears, but they need to be less messy, have a longer shelf life, a longer constant quality and they must be juicy! We want a pear that we can eat as a snack on the go.' In short: an on-the-go pear. Migo® is 'the Friendly pear'. Migo® will be happy to go with you and loves making new friends. This pear can be eaten by consumers anywhere: at the gym, on the beach, on the way to work or at school.
Would you like to know more about the Migo® pear? Visit www.migopear.com or send an email to info@fruitmasters.com